This is a technique-based entry level class. Perfect for beginners who want to learn pole basics. Includes a variety of fun, flirty pole moves, floor work and transitions. All levels are welcomed.
Excellent for pole divas ready to take their skills to the next level! Learn basic climbs, fundamentals for basic inverts and pole tricks.
Increase your sex appeal and your flexibility in this 60 minute Sexy Flexy Pole Moves class. This class offers the best of both worlds, 30 minutes of deep stretch to increase flexibility followed by 30 minutes of pole, learning flexible pole moves. Good for all levels.
Whether it is your first class, or you have prior Pole experience, Pole Dance Diva is designed to transform the sultry, seductive moves of pole dancing into a full body workout. Focus is on simple choreography, including transitions, pole tricks and more; guaranteed to work up a sweat.
Turn up your SEXY in our basic Pole Spins class. Learn how to transition gracefully between your favorite pole moves. Learn how to use pirouettes, backslides and creative combinations to achieve a smooth and flawless pole performance. All Levels Welcome!
Fine tune your pole skills with our Pole Fit & Tricks class! This class is perfect for all levels and is designed to increase your pole strength while teaching new tricks to add to your SEXY POLE ARSENAL!
Pole Tricks: (multi level pole tricks)
Ready to impress? Summon your inner-diva as you learn climbs, holds, and tricks that are sure to steal the show! Students will take turns executing tricks at the discretion of the instructor.
Note: Prior Pole experience recommended for this class.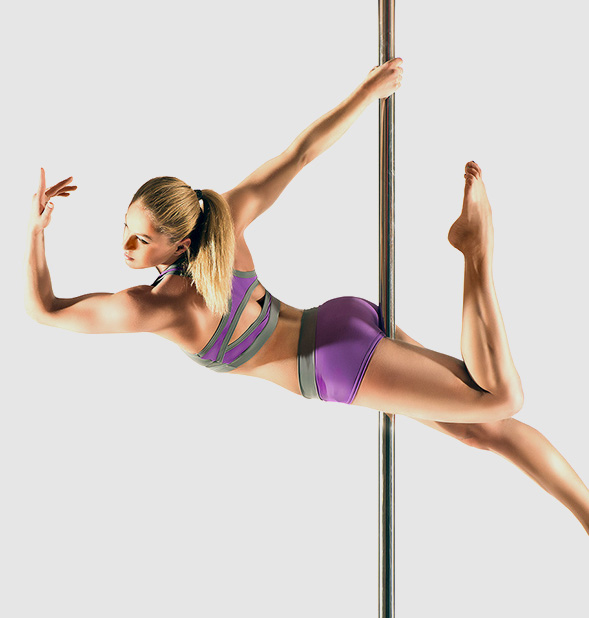 Perfect for "newbies" and those who like to take it slow; ease your way into this dance-orientated class, while mastering basic holds and transitions. Basic spins, sexy floor work, and an intro to climbing will be covered. Pole Kitten Camp is guaranteed to unleash your inner pole goddess…
Our doors are open for you to refine your skills, and practice what you've learned during classes. Please note there is no instructor during this 60-minute period. Open pole practice is free to Purple Palace Members. There is a $10.00 for non-members.
Low Flow Pole Choreography
Explore a variety of classic and exotic pole dance, low flow and floor movements. Choreography is changed weekly so there are always new techniques to practice! Wear your sexiest pole ensemble and have fun with it! Knee pads and/or Yoga pants highly recommended. This is a shoe friendly class so strap on your favorite pole shoe (or socks) and come ready to get sexy!
This class is excellent for newbies. In this class we focus on the fundamentals of pole, basic pole moves, correct form, pole terminolgoy etc. This is perfect if you are new to pole and want to learn at your own pace with fellow newbies. This class is for newbies and beginners only.
*All class purchases/packages can only be used by the individual who's name classes are purchased under.
We do not allow sharing of any of our class purchase options to be shared under any circumstances.
Registering online using our secured online payment system is highly recommended to ensure your pole is secured. We recommend arriving at least 10 minutes before class start time even if you registered in advance. Please note that we allow a 5-minute grace period following class start time to hold your pole. If you have questions regarding our class program, or need assistance with your on-line registration, contact our friendly Purple Palace staff at 602-374-2897. We are happy to assist you.
At Purple Palace we are always available to answer questions and provide you with the package that best suits your needs. We accept all forms of payment including cash, check, debit and credit card. Master, Visa and Discover card accepted. Register in person at our Purple Palace Pole Studio studio located at 2925 North 24th Street Phoenix Arizona 85016.